The term "Playbook" has been in vogue at Customer Success in recent years. But what does that really mean? How can you take advantage of playbooks to improve customer success? That's what we'll look at in this article.
What is an automated Playbook?
In Customer Success, a Playbook is a series of actions that are executed according to a defined process. It is an automated workflow, based on a trigger followed by several distinct actions.
Let's take the example of onboarding. A Playbook will allow you to automatically execute a scenario of this type when a new client is created:
Playbooks allow to manage more or less sophisticated scenarios, with conditions that can "open up" separate branches within the main scenario.
Playbooks cover a wide range of use cases: customer at risk, drop in product usage, lack of connection from a key user, change of decision-maker in the company, contract renewal... The possibilities are endless!
They can be triggered and run automatically, depending on defined conditions, or be launched by the CSM itself. The sequence between the different stages can be conditioned by the validation of the previous steps, in automatic mode, or with the approval of the Customer Success Manager.
Why should you use Playbooks for Customer Success?
Playbooks allow you to establish clear and repeatable processes to move your customers forward in the best way throughout their lifecycle. The challenge as a SaaS vendor is to provide scalable processes, which you can capitalise on, in order to decouple the resources required from the number of customers to be managed.
Playbooks have 3 main advantages:
1. Proactively manage your customers
With Playbooks you can be sure that the right action is assigned to the right person, at the right time, according to the process that has been defined. You are sure to cover everything and avoid oversights. Your customers are thus proactively steered and you significantly reduce blind spots.
2. Homogenize processes within the CS team
Playbooks allow you to align your teams and facilitate the integration of new CSMs. Basically, you avoid having your team reinvent the wheel for every customer! Playbooks manage the core processes of your customer relationship, automatically and seamlessly. This means that you can offer a consistent brand experience to all your customers, regardless of which CSM is in charge.
3. Save time to focus on the essentials
Perhaps the main point: you no longer waste time on low-value tasks that can be automated. Your CSMs gain in mental load because they no longer have to think about the micro-tasks that were previously their responsibility. You free up your team's time for higher value tasks. The time spent with your customers is of better quality and your customers are better supported.
How to build an automated Playbook?
Customer Success Platforms such as Skalin usually include a Playbook function. These solutions offer a "builder" to build your own scenarios. With Skalin, for example, you have a central part on which you can simply drag and drop the actions to be performed one by one to build your ideal scenario.
Illustration with Skalin's Playbook builder: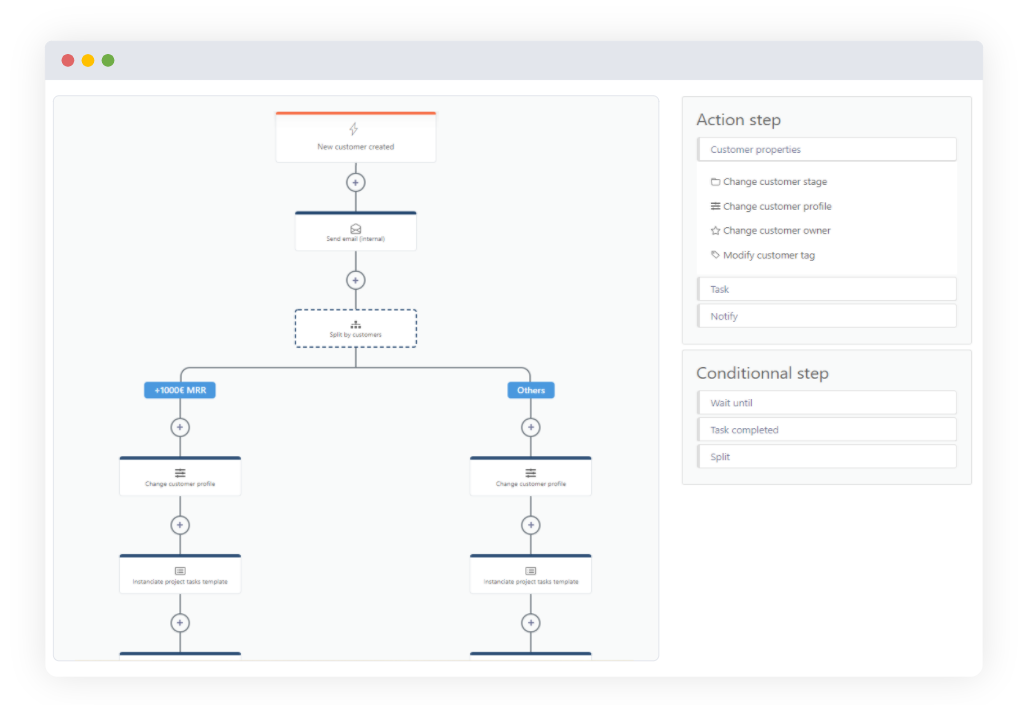 To get started with Playbooks we recommend that you start by identifying the recurring actions that take up your time. There are probably many time-consuming things in your current methods that could be automated. Sometimes you don't even see them anymore, but they are there! Try to identify them and automate them with a Customer Success tool.
Playbooks will allow you to cover a wider range of actions that you simply couldn't manage humanly. And contrary to popular belief, they can be used for both high-touch and low-touch.
Here are the steps to follow to identify and prioritize the Playbooks to be implemented:
Identify the weak points in your business Customer Journey: For example, you know that your churn rate is too high compared to the industry average.
Go back to the root cause of the problem (the "5 whys"): my churn is too high because my customer didn't see the value of the product > he didn't see the value of the product because he didn't use certain features enough > maybe he didn't understand them well > the feature is seen too quickly during onboarding.
Build on what has already worked for your company: perhaps some CSMs spend more time in training introducing this functionality. Capitalise on their experience to make it standard!
Reuse this material to design a high-performance Playbook.
Prioritize by estimating the complexity of implementation vs. the expected benefit.
Are you interested in the subject? Do not hesitate to ask our experts for advice.